Like Lori, over at Skoog Farm Journal, you can visit here here at this link
I am a bit the same.
Thank you all so much for your lovely thoughts, caring wishes, prayers and loving words. Easy, I am trying to, but nothing is so simple, meals,laundry, and more still wait each day. Housework, that is more easily ignored!!! But I am doing OK. Still waiting to be on the short list for the scan, my referral has not been read by anyone yet!!! I will not get stressed, and will wait patiently.
I have 3 lily bulbs planed in pots, they are perfumed, and magnificent.
The last gladioli have no buds yet, they were planted VERY late.
One of the comments in my last post was from Louise at this link,
The words , in case you missed them, said
The bird's nest is beautiful. We work so hard to surround ourselves with security, and here there are all these little birds that surround themselves with bits of woven fluff and build their lives!
This is so true. Life is fleeting, sometimes too short, fragile, and needs to be lived each day to the fullest we can.
Meantime I went to the library, and in a Homespun Magazine from June 2015, was this Fox. He is a softy, lots of fiddly cutting out, but he said " Make Me" so I am. How could anyone resist this little fellow?
When I was young, I had a soft plush rabbit with long legs, pale green, called Flopsy.This Fox might well be " Flopsy Fox" a tribute to my days with Mum and Dad on the farm, a calf each year for the school calf club day, a horse, then a bike to ride the mile and a half to primary school, pine trees for firewood, and a 6 bale cowshed. How times change. The farm is now very exclusive and expensive lifestyle blocks.
Magazine cover photo courtesy of the Internet.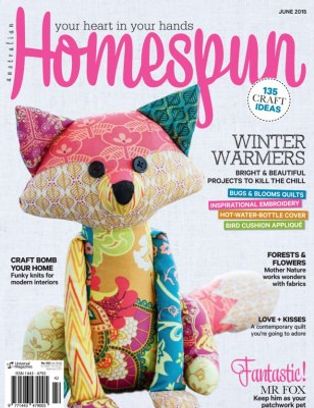 Quotation of the day, author unknown
" You are never too old for a Teddy Bear"
Greetings from Jean.