Sunday dawned with a clear sky and almost a frost at Springfield.
The day before,late afternoon, the Trans Alpine Express tootled along on its way back to the East, so many tourists hanging out of the open rail cars, I guess I am on at least one photo and maybe a video,going back to China or Japan, I hadn't time to get my camera out.
I can see it now "Look at that crazy lady waving like mad at us!!!"
Photo courtesy of the internet. The Trans Alpine Express on the way from Christchurch to Greymouth, South Island, New Zealand.
Louise ,at Bahara, , Springfield, made us so welcome,and the girls and boys did too. Call in here to enjoy the peace and beauty of the south.
I have just phoned Louise and she so kindly has given me permission to post some photos from their web page.Eat your heart out at these, I need to be back in winter to get that much desired "Quilt on the Snow" photo. Happy Anniversary, I hope you have as many years of happiness together as Hugh and I have had.
The alpacas all smiled to order for this one. Courtesy Bahara web page.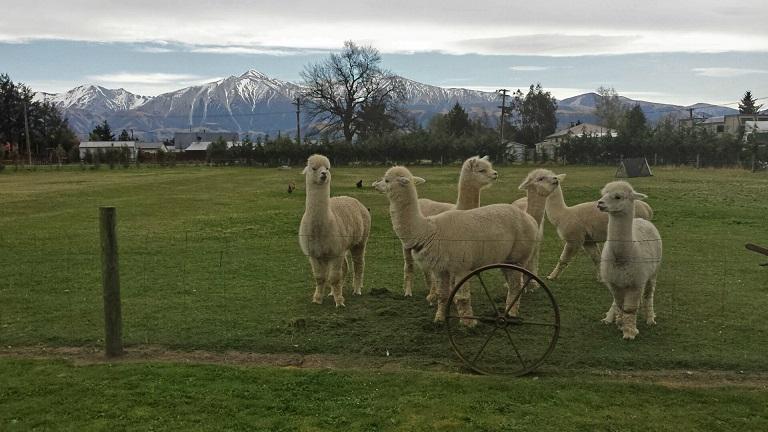 Winter white, beautiful.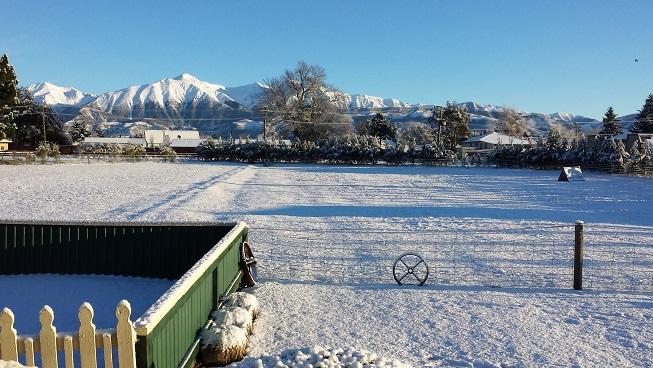 And one more from Bahara's web pages, the far unit was where we had the most peaceful night, and where I stood on the deck, to wave at all who passed along the railway lines!!! Thanks so much Louise.We will be back.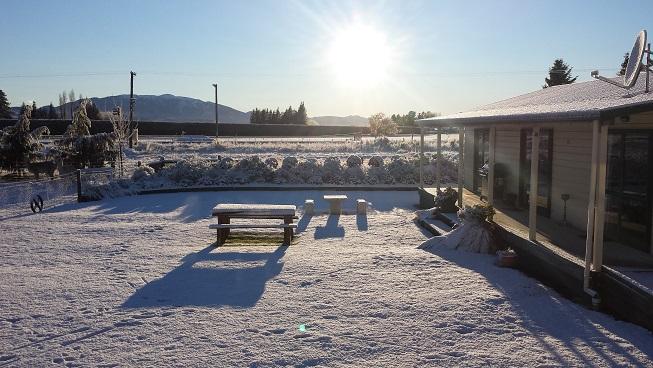 Back to my Canon, one alpaca looked on in curiosity,and one little hen obliged as well
Sunrise at Bahara. the day would be fine.
Arthur's Pass was definitely the best drive of all, so many places to stop easily!!! So, here wo go,from start to end.
Still early morning and shadows from those huge mountain ranges.
The darker part is shadow from the hills to our left, the Eastern side. The paler part is rocky, with a lot of very bare places.
A lot of windscreen views.here is one.
There was mist rising in the distance, above Lake Pearson, high in the Waimakariri Basin.
More shadows, this is exactly how it was that morning at 9 a.m.
More rocks, this would all be covered in snow in winter.
Above the viaduct,we didn't try to cross the road with the trailer, this is a huge engineering feat.
Photo courtesy of the internet.
this is the corner just above the viaduct.
A wee bit of snow,left over from 20th February.
We left the Pass road,a brief stop at Kumara, we were there in 1986. The Pathfinder looks so shiny after tar seal roads!!!No dusty metal today.
Over the Taramakau River bridge, road and rail all together!!!
Then that salty smell,and the vast Tasman Sea on our left.I could almost see Australia in the distance.ALMOST, as 2000km is a tad too far.!!!
We are well on the way to Westport, to stay a night with a friend who moved from our home-town to down south.
Quotation of the day, author unknown,
"Kindness and generosity
will always be remembered ,
many years after they have been given with no
thought of a repayment"
Greetings from Jean.